Gaaah!!
Gah is a word I use when I'm too lazy to just add the D at the end of God. It turns into GAAAH. and I'm only too lazy to use consonants when I'm either; pms-ing, sleepy, sad, stressed, or hungry. I happen to be all of the above.
I turn into a Neaderthal and use mostly vowel sounds- Ah, eh, eeeee, oh. and GAH. I'd only use OO if I were maybe talking to a baby or something magical happened, like I could move my fucking pen through telekinesis across the room. I'm in true caveman form and it's fairly simple to understand. Straight to the point, minus all the babble.
I was supposed to teach voice lessons today and GAAAH, I left my keys- in my Mothers car. She left before I could figure that out, so I had to cancel all of my lessons, lost out on some much needed cash AND am confined to my home. all. day.
Confinement
does not
make me productive. Rather than writing, reading, doing a Yoga tape, or perusing CNN or other informative sites to keep up on current events. I procrastinate, do random sets of wind sprints from my fireplace to the microwave while making hot cocoa, and most dangerous of all.....I window shop. Window in the computer sense.
Right now I have: Nordstroms, Urban Outfitters, Lucky, Sephora, Marc Jacobs, and InStyle, open in windows on my screen. Literally, plastering the screen behind this one making a collage of pretty little things I currently cannot afford.
This, I understand, is materialistic and vain and probably some strange form of torture that should have a name.....Who do you contact when naming new forms of torture that you think are Webster worthy?? Mr. Webster?
So here are the things I would like to buy using my imaginary bank account:
Shiny Shoes. Since, hey, I like my shoes to be as bright as my future.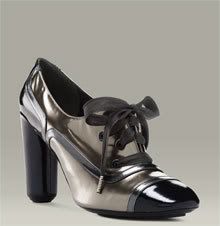 Dear Marc Jacobs,
You. are. a snobby, snobby man. $748.00 dollars?! WHAT. DO YOU THINK THE REST OF US PAUPERS DO?? I am not royalty, and I do not think I am royalty like Paris Hilton, BUT, I would appreciate these shoes
far
more than the people who can afford them. These shoes will become sad, abandoned footwear in 4 months, in the back of some heiresses closet, with dusty Louis Vuitton bags and your previous fall collection. Work on your prices.
Sincerely,
Sad Consumer Chelsea Talks Smack
I like my shoes
so
shiny in fact, that when I wear these T-shirts, I could either be mistaken for The Lord himself, or I can scream my political views at you without risking damage to the chops.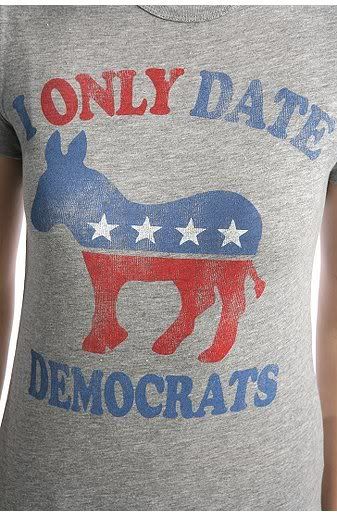 I've also found out- through my time sucking, black hole of internet "shopping", that pleating is coming back. Pleats?! NO. I am not, nor have I ever been a fan of the school girl/tennis player chic. You will not find me in pleats. ever. I'd rather Hammer Pants come back than pleats.
And in closing, the perfect little pouch for carrot sticks, change and condoms:
Bustboobtique
However, if you hand me a chicken wing I will not deny you.